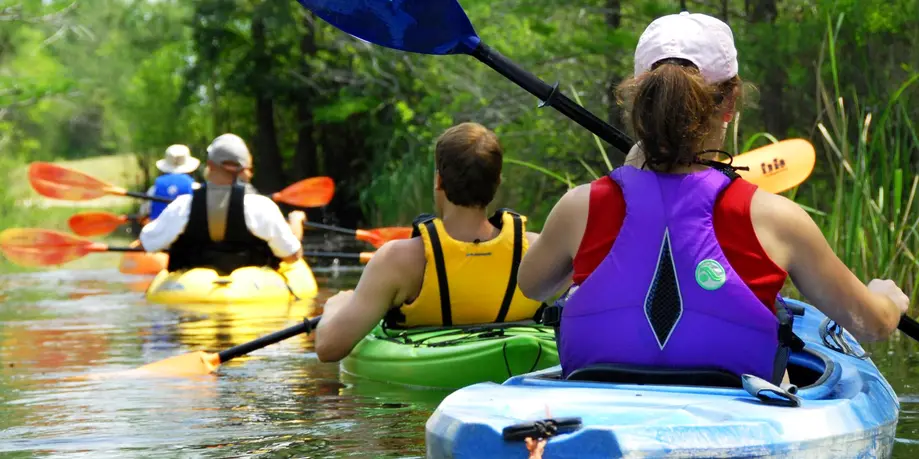 Starting at $40 | All Ages | 1.5 Hours | Solo or Tandem Kayaks
Island Head HHI offers the best family-fun parasailing water experiences in Hilton Head. Breathtaking parasail trips lead by USCGA Licensed Captains offer new perspective over the Island. Top-rated on TripAdvisor with an awarded Certificate of Excellence, Island Head Watersports is one of the most popular excursions on Hilton Head Island.
Parasailing puts guests hundreds of feet in the air, above the water, so you get a bird's eye view of Hilton Head Island and the surrounding seashores. With the wind whistling through your hair, and the sea breeze blowing your parachute open, you feel freer than you ever have. Visitors seeking a real Hilton Head thrill ride will enjoy high flying family-fun parasail for beautiful views of the Island and beyond. Hilton Head parasailing is an experience you will not soon forget!
Kayak - $40.00 + tax
Ages 6+
Tandem Kayak - $75.00 + tax
Ages 6+
Paddle the Low Country!
---
Rates
Kayak: $40
Tandem Kayak: $75
All Ages
---
Duration
1 hour and 30 minutes
---
About
Come experience a nature walk on the water with our guided kayak tours! Glide through the waters of Skull Creek as your tour guide enriches your mind with historical and wildlife knowledge of Hilton Head Island. Paddle through the rich ecosystem of our salt-water marshlands observing many indigenous species of bird wild life such as: the brown pelican, egrets, herons, osprey, bald eagles and many more.
Get up close and personal with our beloved Atlantic Bottle Nose Dolphins! Hilton Head is home to over 100 local dolphins, living here year round, and is also located on the migratory path for these spectacular mammals. Don't be surprised to see these curious creatures swimming right alongside your kayak! We have double and single kayaks available. This tour is great for all ages! No experience necessary!
---
What to Bring
Sunglasses
Sunscreen
Sun hat
Bathing suit
Towels
Water
Booking Notes
There is a parking fee to park on site. Parasailing, Kayak Tours, Paddle Board Tours, Tubing Charters cost $15 per car. Pontoon Boat Rentals, Private Sunset Cruises, and Private Water Ski Charters cost $20 per car. We recommend carpooling!