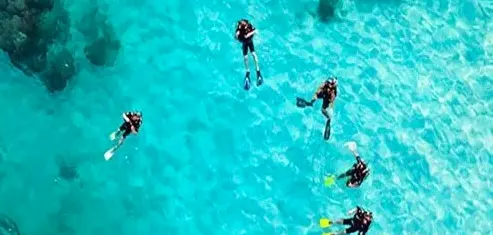 Certified Scuba divers welcome! • 7 Days • Pristine underwater environment!
Person Single Occupancy - $4,940.00 + tax
All ages
Award-Winning Diving Destination!
Duration
7 Days
About
Bonaire is an award-winning diving destination that accommodates every skill level, from beginner to advanced diver. This immersion is designed to add value to a travel experience focused on diving. On the surface between dives, there is a very comfortable and conveniently located beach hotel accommodation. The welcome dinner will be at Bonaire's finest restaurant and there will be above average dining experiences daily.
You will learn about the history of the island and enjoy a guided tour of the island the day before return travel to the US. Getting a taste of the island is integrated with time at the local microbrewery as well as a distillery on the island. The visit would not be complete without the opportunity to see the island's namesake flamingos.
More Info
Pricing includes the following:
- All ground transportation.
- Airport transfers
- 7 Nights of hotel accommodations (based on double occupancy)
- All meals
- A check-out dive and 6 days of diving twice per day
- Tanks
- Marine park and museum fees
- Island tour
- All taxes.
Equipment rentals not included i.e. regulator, dive computer, etc.
What to bring
Prior to the immersion, we have a pre-departure orientation with useful pre-trip information to help with planning. We will offer advice on appropriate attire, details on the lodging and interesting pre-reading.
Everything is included except your airfare to Bonaire, travel/medical insurance, and any items of a personal nature.
Health and Safety Policy
Participants with Dessau International, Inc. destination immersions will be required to provide proof of COVID vaccinations and boosters prior to travel. Some destinations may require testing prior to departure and participants will be responsible for their testing prior to departure. During time abroad for the respective immersion, should testing be required to return to the US, Dessau International, Inc. will make arrangements to comply with testing requirements but participants will be responsible for any test charge abroad. Participants in destination immersions are encouraged to visit CDC website to become familiar with other vaccinations that would be recommended.
Facial masks may be required during travel or while abroad during a destination immersion, participants will be responsible for complying and securing their own masks. Should a mask requirement arise while on a destination immersion, Dessau International, Inc. will make available the masks on location. All participants are encouraged to have hand sanitizer during the immersion abroad.