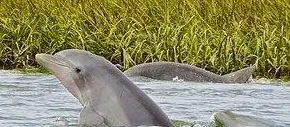 2 or 3 Hours • All Ages • Most popular!
Island Time Charters offers comfortable and private excursions for up to six passengers around the beautiful Hilton Head Island. Browse our variety of exciting charter options running from 2 to 7 hours. Start planning your trip and get ready to enjoy some fun times on Island Time. All ages are welcome and we will do everything we can to ensure it is your day, your way!
Two Hour Private Dolphin Nature Cruise - $325.00 + tax
Up to 6 People
Three Hour Private Dolphin Nature Cruise - $399.00 + tax
Up to 6 People
Duration
2 or 3 Hour
About
This Dolphin and Nature Cruise takes you on the waters surrounding Hilton Head Island which inhabit hundreds of Atlantic Bottlenose Dolphins along with, osprey, great blue herons, manta rays, bald eagles, manatees, and even sea turtles. We will also enjoy the landscape of the Spartina Grass marshland, numerous oyster beds as well as the famed Pluff Mud of the Low Country. It's a promise—you will never forget this cruise!