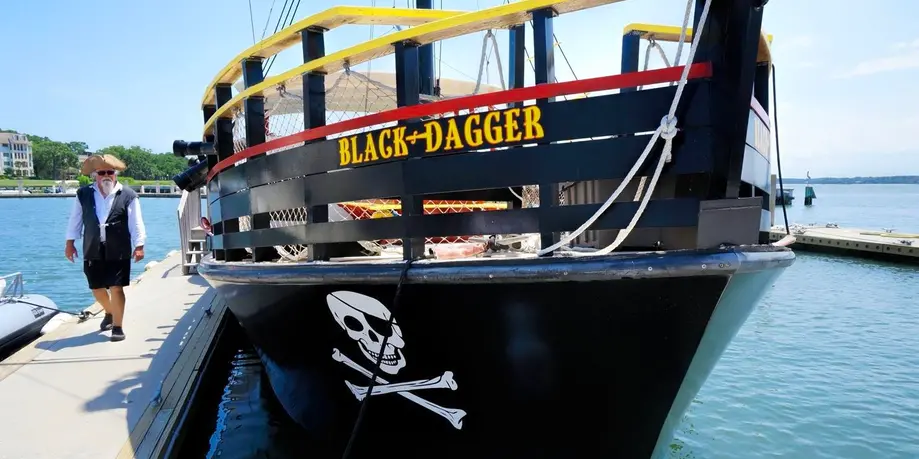 IMPORTANT - Please check PIRATE CRUISE above first for Live Availability
Hilton Heads first and only custom pirate ship, is the islands #1 rated attraction! From beginning to end the action is non-stop as we transform the kids into our Pirate Crew. There's face-paint, tattoos and even a pirate sash to wear for the trip. Everyone gets a pirate name and learns how to talk like a pirate all before we even start our search for treasure!
Adult (Ages 13+) - $0.00 + tax

Child (Ages 1-12) - $0.00 + tax
Ages 1 - 12. Must be accompanied by an adult
Infant (11 months or younger) - $0.00 + tax
(11 months or younger) Must be accompanied by an adult
WAITLIST ONLY
Please don't add yourself to the waitlist unless there is no availability on your preferred booking date.
This is NOT a reservation. If you meant to make a reservation, please go to the previous page and Click PIRATE CRUISE. We don't want you to miss out on this great experience!
---
Booking Notes
Be sure to show up approximately 20 minutes early so we have time to give your little pirates a tattoo and facepaint! They won't want to miss out.
Important Information
There is a $9 cash gate fee to enter Sea Pines Resort (per car). Please have cash on hand for this! There is no restroom on the boat, please go ahead of time. Dress for the weather, we don't get the kids wet so bathing suits aren't required. Sunblock is a must, there's lots of shade aboard but we keep the kids in the action so they get a good amount of sun. Feel free to bring a drink or a snack but there's no time for a big lunch, the kids will be too busy having fun. Last but not least don't forget yer camera.
More Information
The Black Dagger is docked at the commercial pier in Harbour Town right under the lighthouse, in the world renowned Sea Pines resort. You'll find plenty of things to see and do in Harbour Town, so if you haven't been here before, you should leave plenty of time to explore. With over two dozen shops, galleries and numerous restaurants and special events, there's plenty to keep everyone happy for days. For a complete list of shops and restaurants visit www.harbourtownyachtbasin.com.
Parking
Parking is available right next to the boat, however it can be crowded at times. We recommend you take advantage of the Harbour Town Trolley. You can catch it at the Greenwood Drive Lot, just inside the entrance to Sea Pines. The Trolley runs every 20 minutes.
Here is a directions link to our location.
FAQ
Frequently Asked Questions:
Q: What should the kids wear and what do we need to bring?
A: Dress appropriate for the weather. We don't get the children wet so bathing suits aren't needed. Sunblock and a camera are a must! We have ice cold water for only $1 at the dock.
Q: Is it rough, or more importantly, will we get seasick?
A: Our adventure takes place in the calm waters of the Calibogue Sound. We always look for the calmest water so seasickness is extraordinarily rare!
Q: Can we take pictures and video?
A: Absolutely! We encourage it and even give you a couple of great photo-ops during the trip. If possible we would love it if you post to our Facebook page or Tripadvisor. We may even have a nifty photo folder for sale at the booth.
About Pirates of Hilton Head
Cruise Description
Recommended Ages 2-10
The entire experience with the crew of the Black Dagger lasts about an hour and a half. The first fifteen minutes is spent on the dock getting the little pirates ready and teaching them how to talk like a real pirate crew. Once the crew is ready we board the ship and head out on the Calibogue Sound for about an hour and 15 minutes.

We suggest you prepare for the weather, if the sun is out load up on sunblock and bring some water. If it's cloudy consider a light rain jacket, we will still sail in a light drizzle, we're pirates after all.

The waters we ply are protected and usually very calm, sea sickness is normally not an issue. We suggest you prepare for the weather, if the sun is out load up on sunblock and bring some water. If it's cloudy consider a light rain jacket, we will still sail in a light drizzle, we're pirates after all.
Cancellation Policy
You have until 24 hours prior to your cruise to make any changes to your reservation. No cancellations are allowed within 24 hours of your departure time as space is limited and those spaces have been reserved for you. Your credit card will be charged the full amount for unsold seats. Just give us a call at 843.363.7000 should you need to cancel.
Bad Weather
We will sail in a light drizzle but anything more and we'll cancel the trip. Regardless of the weather where you are, don't assume the trip is cancelled, often-times we can use the radar to avoid the rain and will still sail. The captain reserves the right to cancel any trip for any reason. If we cancel a trip you will be issued a refund. We will always make every attempt to contact you ahead of time in the event of a cancellation.