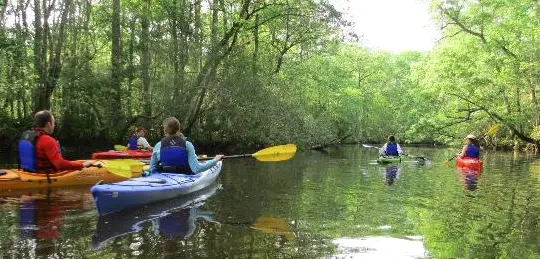 Most Popular Blackwater Tour! • Advanced booking recommended!
Single Kayak - $52.00 + tax
Ages 14+
2 Adults - Tandem Kayak - $104.00 + tax
Ages 12+
Tandem Kayak for Child and Adult - $97.00 + tax
Child: ages 4-11 Adults: 12+
About
This is a "Nationally Recognized and Designated Trail" located in the heart of a Protected Wilderness area in the Francis Marion National Forest. This beautiful Blackwater Creek is a tributary to the Santee River and was paddled by the Santee and Coastal Plain Indians for thousands of years. Giant 1000 year old Bald Cypress trees can be seen in the upper section and Water Oak, Ash, Red Maple and Swamp Dogwood shade the banks of its pristine black waters. It offers spectacular birding and wildlife viewing including Prothonotary warblers, Barred Owls, alligators, turtles and the occasional river otter. Banks of the river reflect geological precedence of the Rice era where Historical earthen dikes give way to a flooded subtropical forest of abandoned rice fields once owned by prosperous Rice Plantations.
After your tour enjoy the historic town of McClellanville with local seafood, gift shops, museum and several artist shops. Your tour will end around 1:00 to 1:30 p.m.
More Info
Ages 4 through 11 must be in a tandem 2 person kayak with someone aged 14 and up.
Ages 12 and up are allowed to paddle a single kayak.
This is slow moving fresh black water and is perfect for beginners.
During summer months, there are occasional paper wasp nests here and there. Bring your own epipen if you are allergic to them. It is rare that anyone gets stung, but bring one just in case if you are allergic as it is a remote area.
On a rare occasion, the U.S. Forest Service will be conducting control burns. If this occurs, we will have the right to cancel the tour with a full refund. Minimum tour size is 2 people. If the tour does not meet this requirement, we reserve the right to cancel or reschedule.