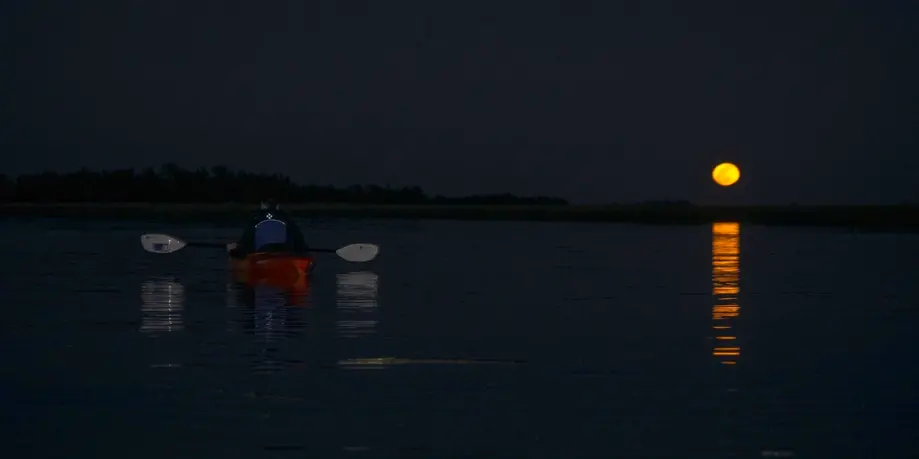 Paddle under the stars! • Bring your own boat option • Booking in Advance Encouraged
Event Admission Ticket - Adult - $25.00 + tax
Everyone must have an admission ticket, even Paddlers
Event Admission Ticket - Child - $10.00 + tax
4-11
Event Admission Ticket - Child 3 and under - $0.00 + tax
0-3 years old - Free
Single Kayak - $35.00 + tax
Ages 14+
2 Adults - Tandem Kayak - $70.00 + tax
Ages 14+
Tandem Kayak for Child and Adult - $65.00 + tax
Child: ages 4-11 Adults: 12+
Bring your own Boat - $20.00 + tax

Bonfire Guest Only - $10.00 + tax

Event Kayak Rental - Single - $10.00 + tax

Event Kayak Rental - Tandem - $20.00 + tax

Event Kayak - Bring your Own Boat - $5.00 + tax

Campsite - 1 night for Full Moon Paddle and Bonfire - $30.00 + tax
Choose 1 for your group, max 8 ppl per site. This is only for the night of the Full Moon.
Bunk Rental - 1 night - $10.00 + tax

Duration
Approx. 1 Hour
About
Come see the Full Moon over the Cape Romain Wildlife Refuge and Francis Marion National Forest. The naturalist guided tour will leave from our Adventure Center in McClellanville and travel up the Intracoastal Waterway into Awendaw Creek. Common sights on the tour include: Dolphin, Shorebirds, Osprey, and Bioluminescent Phytoplankton. This Paddle will be followed by a Bonfire on our waterfront Campground overlooking the Intracoastal Waterway at the put in/take out. Don't want to paddle? Come relax by the fire and watch the moonrise. Discounted Camping and Cabin rates are available to anyone on the tour that wants to stay the night. Smores and Hot Dogs are provided, but feel free to bring Marshmallows, Hot Dogs, Drinks, etc. to roast by the fire and any instruments if you are musically inclined. This area is a great place to photograph the moon so bring any photography gear you have as well. This event is both Kid and Dog Friendly.