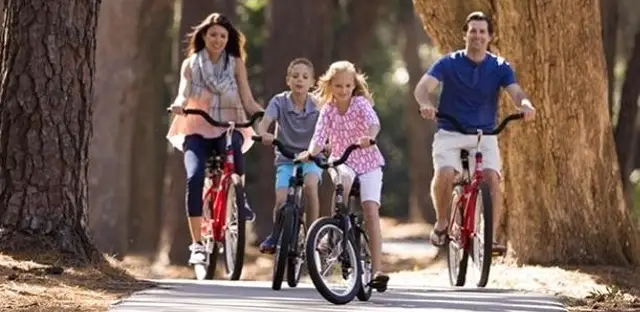 Seasonal Rates | Select your start date!
HILTON HEAD ISLAND'S PREMIERE BEACH AND GOLF RESORT
Refresh the spirit, encourage the unscripted and return to the classic family vacation as a guest of The Sea Pines Resort. Spanning the southern third of Hilton Head Island, and located along 5,000 oceanfront acres, The Sea Pines Resort has been a quiet retreat for more than 50 years.
26 - $44.99 + tax
5'1" - 6'4"
24 - $44.99 + tax
5'1" and shorter
MENS - $44.99 + tax
6'2" and taller (Male Bike Frame)
16 - $44.99 + tax
32"-40" tall W/O training wheels
16W/TW - $44.99 + tax
32"-40" tall With training wheels
20 - $44.99 + tax
40"-50" tall
20W/TW - $54.99 + tax
40"-50" tall with Training Wheels
26CC - $64.99 + tax
1.5 years up to 40lbs max weight Kid helmet and Basket Included
KK&26 - $89.98 + tax
min age is 18 mos max weight up to 80 lbs for 2 kids. Prices Includes 26" bike
TB&26 - $89.98 + tax
For ages 4-8 (max weight limit 75 lbs) Price includes 26" Bike
CARGO&26 - $89.98 + tax
To pull chairs and beach items. Easily detachable. Max weight 95 lbs. Price includes 26" Bike
TAIL&26 - $89.98 + tax
The Tail Wagon dog bike trailer is the perfect way to include furry family members in your outdoor adventures. Max Weight 70lbs
AD3 - $64.99 + tax

AST - $44.99 + tax

3 & 4 Day Bicycle Rental Rates Currently Starting at: $44.99
Please select the date you'd like your bicycle rental to start. We recommend having your bikes delivered on the day you arrive and then we will pick them up the day you depart.
Example for a 7 Day Rental (Your bikes are delivered Saturday, we will pick them up the following Saturday)
---
Discounted rates are available for:
Registered guests of The Sea Pines Resort, via their Guest Amenity Card
Sea Pines property owners, via their CSA ID card
Military, First Responders & Educators
Hilton Head Island residents