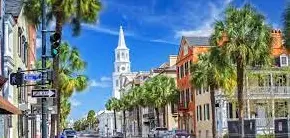 12 hours • All ages • Great for families! Call to Book!
Ticket - $199.00 + tax
Per person
Come and experience Charleston with us
Duration
We will leave Savannah at 8am and return no later than 8pm.
About
We will travel in our comfortable 15 passenger van to one of the South's most beautiful cities.
- Experience Boone Hall Plantation and Historic Downtown Charleston.
Details
The all inclusive price includes:
- Driver and transportation
- History teacher with 30 years of experience
- Lunch, snacks and drinks
- Ticket to Boone Hall Plantation
- Guided Walking Food Tour of Historic Downtown Charleston.
What a great way to spend the day!
Perfect for family outings, church groups, and field trips!