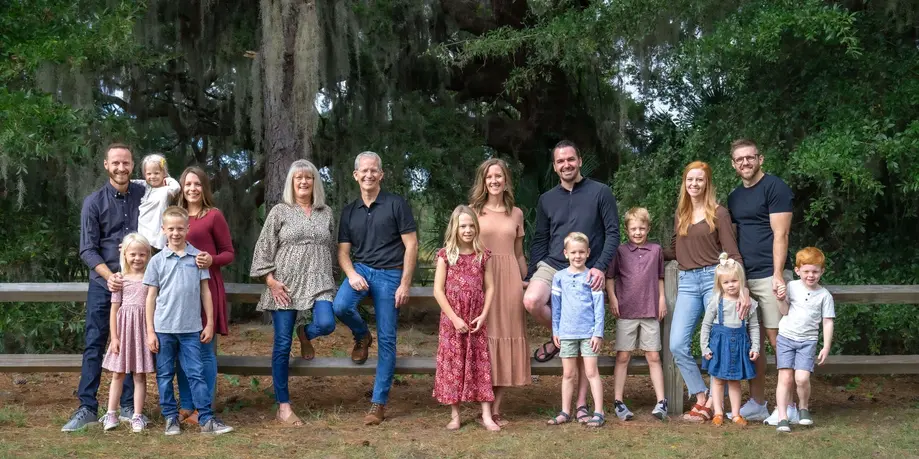 Up to 60 minutes • Great for Families!
Couple - $195.00 + tax

High School Senior - $195.00 + tax

1 - 4 People - $195.00 + tax

5 - 8 People - $245.00 + tax

9 - 12 People - $295.00 + tax

13 - 16 People - $345.00 + tax

17 - 20 People - $395.00 + tax

21 - 30 People - $445.00 + tax

31 - 40 People - $545.00 + tax

41 - 50 People - $645.00 + tax

51 + People - $745.00 + tax

Photography Lakeside on Hilton Head Island
Duration
Up to 60 minutes, with most shoots lasting about 45 minutes
About
Join us at Jarvis Creek Park on Hilton Head Island for a wonderful Lowcountry Setting like no other. This setting has a Lake, lush vegetation and trees with Spanish Moss which makes for the perfect natural backdrop for your photos.
We offer family photography, high school senior portraits, maternity, engagement and couple shoots!
The pricing includes the sitting fee, after the shoot we edit and retouch the best photo of each pose and upload it to your private online gallery where you have the option to purchase prints or downloads. You can purchase all the high-resolution digital images with print rights for an additional $245. Most galleries will end up with 25-75 images depending on the family size and what all you are looking for. 
Please be at your photoshoot location five minutes before the scheduled time!
What kind of Photos do we take
We do a full number of combinations including but not limited to the list below. Please keep in mind your photographer will ask what you are looking for, every shoot is different and we are looking to provide you with the photos you would want to hang over the fireplace.
- Full group shot
- Each individual family
- Couples
- Kids
- Grandparents with grandkids
- Sitting on the bench
- We also try to keep to grab a few candid shots of the kids as we work through the session
What's Included
Up to a 60 minute professional photography session

25-75 edited images from the shoot uploaded to a private online gallery for easy viewing. The number of photos depends on your family size, number of people and what kind of photos you are looking for. We focus on good quality photos not hundreds of photos you will never want to hang on your wall.

Option to purchase prints or digital downloads directly from your online gallery.

You can purchase all of the high-resolution digital downloads for an additional cost of $245. 
Have questions? Check out our FAQ page.
Things to know
Please keep in mind that this is South Carolina and bugs can be bad in the summer, it is best to bring bug spray incase there is not wind to keep the bugs away.
If weather is an issue we will reach out to you, please keep in mind weather conditions change a lot on Hilton Head so we usually wait till closer to the shoot time to make a call.
If we need to cancel because of weather we will try and reschedule you, if we are not able to find a time that works for both of us you will receive a full refund.
Booking Notes
More about Hilton Head Island